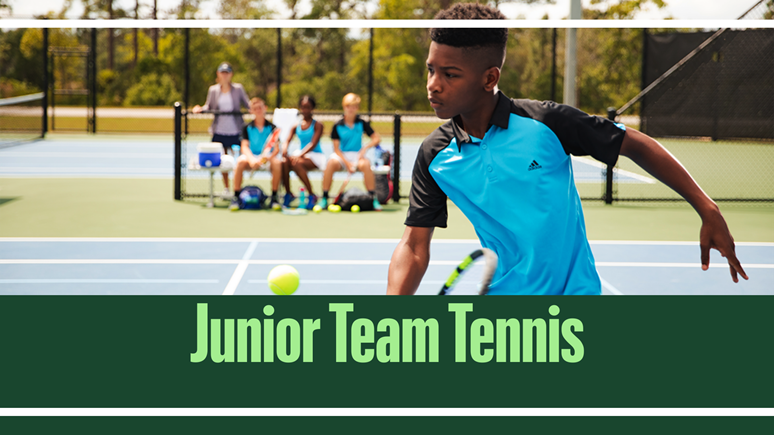 2024 Timelines Coming Soon!
USTA Junior Memberships are FREE! Upgrade your USTA Junior Membership at no cost to play in USTA Junior Leagues. Click here to join!
What is USTA Junior Team Tennis?
USTA Junior Team Tennis is the largest youth tennis program in the country. It brings kids together in teams to play singles, doubles, and mixed doubles against other teams. It promotes social skills and important values by fostering a spirit of cooperation and unity, as well as individual self-growth. It's a fun environment for kids in which they learn that succeeding is really more about how they play the game – win or lose. JTT emphasizes fun, fitness, and friends. The focus in this kind of play is enjoying the exhilaration of exercise and refining the skills that make tennis fun for players of all ages and levels of competition.
Who can play?
Nearly 100,000 kids from coast to coast are enjoying Junior Team Tennis annually. USTA Junior Team Tennis is for girls & boys, ages 5 to 18. Whether your child has been playing tennis for years or has never held a racquet, there's a spot on the team for them.
CLICK HERE to find a local program near you!
How does it work?
In Arkansas, most areas offer two seasons, one in the spring and one in the fall. Most local league seasons will consist of 6 to 8 weeks of practices and matches. Teams compete against other teams from the same geographic region in their respective age/level division. Matches can be played anywhere from a local park or school to a commercial or private club. Players have the opportunity to participate in both singles and doubles play throughout the season. The spring/summer season concludes in a State and Sectional event(s). There are two distinct tracks that we offer –
Arkansas Junior Team Tennis is designed to introduce kids to team competition in a setting that focuses on play opportunities, developing skills, and FUN. Teams in this program have the opportunity to compete at the annual State Championship event but do not advance beyond that. Teams are gender-neutral and require a minimum of 3 players. Beginner and Intermediate divisions only.

Southern Junior Team Tennis is designed to allow advancement from local competition to State and Sectional events for 10 and under, 12 and under, 14 and under, and 18 and under divisions. Teams are co-ed and require a minimum of 3 boys and 3 girls. Intermediate and Advanced divisions only. Click here to learn more!
CLICK HERE for a one-pager of the two different leagues.
CLICK HERE to learn more about rules/regulations.
If you have questions, reach out to Jared at juniortennis@arktennis.com or call (501) 227-7611.